Daydreams & Waterfalls
2004/MAH Records | Reviewed by Kathy Parsons|Solo Piano Publications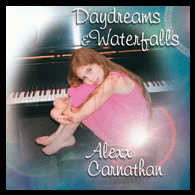 "Daydreams and Waterfalls" is an astounding debut from 12-year-old Alexx Carnathan. A student of Michael Allen Harrison's and a good friend of David Lanz's, this amazing young lady is poised for great things. Her thirteen original piano solos range from classical styles to new age and jazz, and all are played with grace and heart. I've seen some remarkable kids in my years of teaching piano, but nothing like Alexx. She has performed and held her own with major-league pianists at a couple of Ten Grands concerts and will play in the upcoming Whisperings Solo Piano Radio showcase in Portland. Alexx started playing the piano at 2-1/2 and wrote her first song ("Alexx's Tune") at six. She also wrote the liner notes for the CD, and sent me a charming cover letter written on binder paper and illustrated in the margin - a treasure!
The title track opens the CD with a wistful, dreamy mood, and the music reminds Alexx of two of the things she likes best. Several of her pieces have bluesy touches that I love. "Hot Chocolate Night" is one of those, a leisurely smooth jazz piece with a cozy feeling to it. "Smooth Pizazz" is one of my favorites, and I suspect that David Lanz had something to do with the title! Easy-going and jazzy, it sounds like a blast to play. "With Joy and Grace" is a beautiful, melancholy piece, and Alexx plays it with such deep emotion for one so young. "Imagining" is an improvisation composed and recorded off the top of her head in the studio - just amazing! "Tickle Me, Uncle Woggie" is another jazz piece full of fun and spirit - it makes me smile every time I hear it. "Tiptoe With the Tooth Fairy" is a lighthearted piece in a more classical style - again full of fun and childlike innocence. It is obvious that Miss Carnathan can already do it all musically, and it will be such an adventure to follow her career.
Very highly recommended!